There was a charge that was made incorrectly, or fraudulently to my ProCard. How do I dispute it?
When disputing a procard charge you must take the following actions:
Onbase procard transaction form:

Click the Charge Disputed box directly below the Business Purpose.
Click Receipt Not Available and under Reason Receipt is not available select Disputed Charge.
Fill in appropriate reason in the Further Explanation box.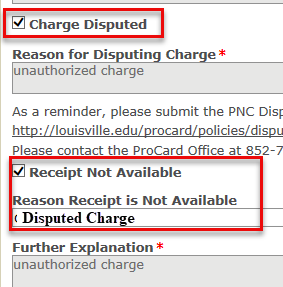 2. IMPORTANT: In addition to marking the Onbase procard transaction form, the cardholders is responsible to complete the ProCard Dispute Form and contact the vendor and/or PNC Bank. Please visit the Procard Office website at https://louisville.edu/procard/policies/disputed-transactions/ for step-by-step instructions.