Business Operations completes deposits for specific departments. If there is a question regarding if Business Ops processes deposits for your department please contact Business Ops at 852-7549 or businessops@louisville.edu.
Tamper Evident Deposit Bags
Business Operations encourages departments to hand deliver bank deposits to our Health Science Campus (HSC) Office. However, we understand this might not always be convenient. When it's not, Campus Mail will deliver your deposit directly to our HSC office. Campus Mail requires check deposits delivered to our Business Operations HSC Office be placed in a sealed Tamper Evident bag, then placed inside a sealed manila envelope addressed to: Business Operations - Building 55A, Room 105, 319 Abraham Flexner Way Louisville KY 40202. Campus Mail can deliver only checks in a sealed Tamper Evident bag, not currency/coin. Currency/coin must be hand delivered to our HSC office. Please only include one deposit per bag.
Example of completed tamper evident deposit bag: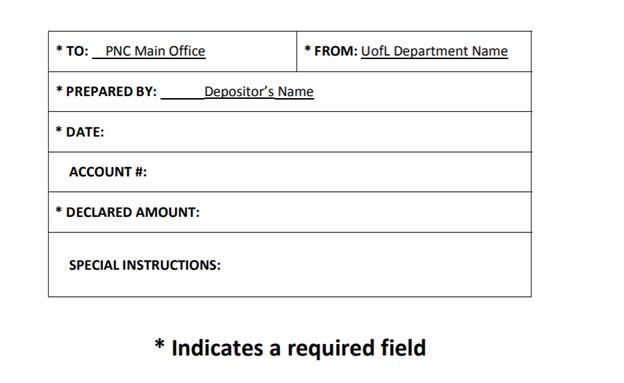 How to Order Deposit Supplies from Treasury Management
Tamper Evident Bag
Tamper Evident bags should be ordered by emailing Treasury Management . Instructions for using Tamper Evident bags can be found at Tamper Evident Deposit Bag.
Deposit Slips
Instructions for ordering additional deposit slips are found at the PNC Bank Deposit Slip Order Form .
Endorsement Stamp
Endorsement stamps continue to be provided free of charge by PNC bank to UofL. Your new endorsement stamp includes a unique location code for your department as well as your department name. If you need to request a replacement endorsement stamp please reach out to Treasury Management via email to request another.
Please contact Business Operations with any questions at 852-7549 or by e-mail at businessops@louisville.edu.