Business Operations completes deposits for specific departments.  If there is a question regarding if Business Ops processes deposits for your department please contact Business Ops at 852-7549 or businessops@louisville.edu.
Tamper Evident Deposit Bags
Business Operations encourages departments to hand deliver bank deposits to our Health Science Campus (HSC) Office.  However, we understand this might not always be convenient.  When it's not, Campus Mail will deliver your deposit directly to our HSC office.  Campus Mail requires check deposits delivered to our Business Operations HSC Office be placed in a sealed Tamper Evident bag, then placed inside a sealed manila envelope addressed to:  Business Operations - Building 55A, Room 104, 319 Abraham Flexner Way Louisville KY 40202.  Campus Mail can deliver only checks in a sealed Tamper Evident bag, not currency/coin. Currency/coin must be hand delivered to our HSC office.  Please only include one deposit per bag.
Example of completed tamper evident deposit bag: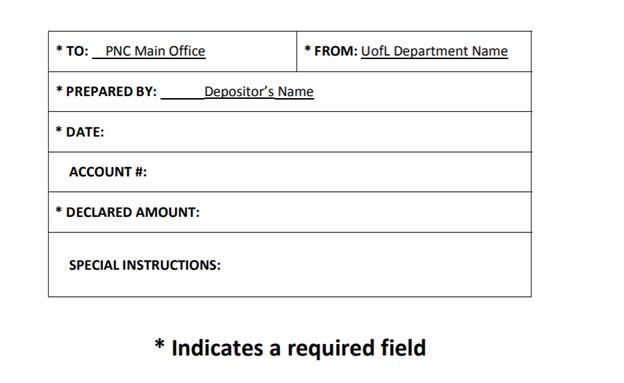 How to Order Deposit Supplies from Business Operations
Please stop by either Business Operations location to request tamper evident deposit bags or deposit slips:
HSC Campus
319 Abraham Flexner Way
Bldg 55A Room 104 Louisville, KY 40202
Belknap Campus
Miller IT Center
02 Lower Level
Louisville, KY 40292
Note:  Deposit slips are only used when the University is closed and your department needs to submit a bank deposit at the University's bank branch.  You may also contact us at businessops@louisville.edu and we will send the supplies via campus mail.
How To Request An Endorsement Stamp from Business Operations
If Business Operations is processing deposits for your department, please submit a request to businessops@louisville.edu and provide the following information:
1.  How many endorsement stamps you would like.
2. Your department name you would like listed on the stamp – up to 28 characters including spaces.
We will contact you once the endorsement stamp(s) have been delivered and are ready for pickup.
Please contact Business Operations with any questions at 852-7549 or by e-mail at businessops@louisville.edu.