*Note: When using the e-mail link to login to OnBase you will begin at step 3
1.

Login to OnBase:
An email will be sent from OnBase when a Monthly Activity Report is ready for approval.
Click on link provided in email or go to this address: https://onbase.louisville.edu/onbase (do not use Edge browser)
Log into OnBase using your University UserID and password.
Make sure HTML is checked if it is an option.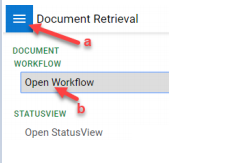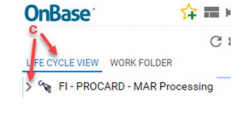 2.

Go to MAR Processing:
Upon entering OnBase, click on the arrow next to "Document Retrieval" prompting a drop down menu of options.
Select "Open Workflow" to be sent to the page displaying relevant queues. If "Open Workflow" is not an option browser may be incompatible. Try another browser.
Under "Life Cycle View" -> "FI – PROCARD – MAR Processing. Click triangle to the left of FI –
PROCARD – MAR Processing.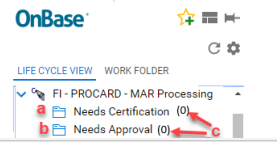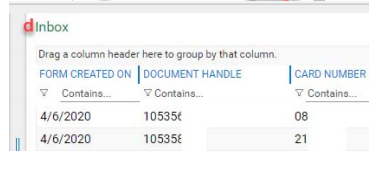 3. *

MAR Processing Menu:
1. Cardholder: click the "Needs Certification" queue.
2. Card Approver: click "Needs Approval" in the queue.
Before the queue names are clicked a zero will appear to the right of the queue. Once the queue is clicked the number will automatically update to be the number of Montly Activity Reports that are in the Inbox.
View the Inbox by double clicking on the Monthly Activity Report needing approval or certification.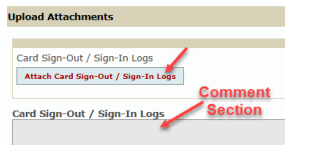 4.

Upload Attachments
The Sign In/Sign Out Logs can be attached to the Monthly Activity Report for the month in this area by clicking on the Attach Card Sign-Out/Sign In Logs button. Comments can be entered here also.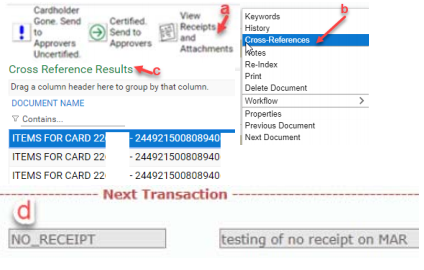 5.

View Receipts:
To view receipts and backup for all charge(s)
Click on the "View Receipts and Attachments" task button.
Right click in the body of the Monthly Activity Report and click Cross-References.
Cross Reference Results will open in a new window and will contain receipts and backup documentation.
If receipts are not attached to the procard transactions a missing receipt indicator will be on the MAR with the reason that was provided by the person who worked the transaction.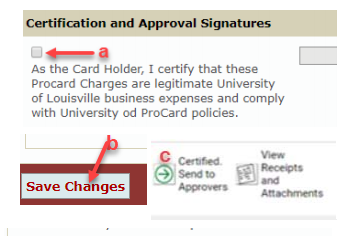 6.

Cardholder Certification:
Once the Monthly Activity Report has been reviewed, the cardholders will need to certify that the charges are legitimate UofL business expenses and comply with UofL procard policies by checking the box to the left of the statement.
Click Save Changes.
Click Certified Send to Approvers.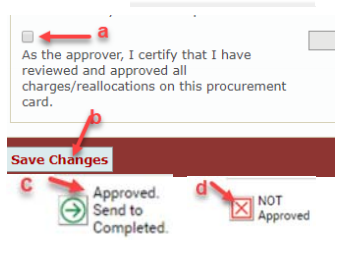 7.

Card Approvers Approval:
Once the Monthly Activity Report has been reviewed, the card approver will need to approve that they certify that they have reviewed and approved all charges/reallocations of the procard.
Click Save Changes.
Click Approved Send to Completed.
Not Approved can also be selected. If Not Approved is selected enter a comment indicating why. The Procard Office and Internal Audit will be notified of the non-approval.