Effective 4/1/2020 due to COVID19 Business Operations is not accepting department deposits, all deposits should be delivered directly to a PNC bank branch by the department.
Business Operations has worked with the Controller's Office and Treasury Management to make the bank deposit processing at our HSC office more efficient. See below for the steps and information regarding processing bank deposits through Business Ops.
Please drop off your deposits to Business Operations (105 in 55A Tower).
Endorsement Stamp
Treasury has ordered endorsement stamp(s) for departments utilizing the Business Operations deposit processing services. Endorsement stamps continue to be provided free of charge by PNC bank to UofL. Your endorsement stamp includes a unique location code for your department as well as your department name.
Deposit Slips
A deposit slip will need to be completed and included in the Tamper Evident bag. Deposit slips will include the department's name and unique Location Code and are provided free of charge by PNC bank to UofL. You will have received your initial deposit slips from Treasury Management. The white copy of the deposit slip is placed inside the Tamper Evident bag with checks, currency, and/or coin. Yellow and pink copies are for department records. Note: Instructions for ordering additional deposit slips are found at the PNC Bank Deposit Slip Order Form .
Tamper Evident Bag
Bank deposit(s) must be delivered to our HSC office in a sealed Tamper Evident bag and include the department's deposit slip. Business Operations will not open tamper evident bags. We will securely store the deposit until the next regularly scheduled armored car pick-up. If a department has multiple bank deposits they can all be included in a single Tamper Evident bag. Tamper Evident bags should be ordered by emailing Treasury Management . Instructions for using Tamper Evident bags can be found at Tamper Evident Deposit Bag. We recommend allowing Business Operations to initial and date perforated tab on Tamper Evident bag for department's records or date stamp the department's copy of the deposit slip.
Business Operations encourages departments to hand deliver bank deposits to our Health Science Campus (HSC) Office. If hand delivery is not a convenient option, Campus Mail will deliver your deposit directly to our HSC office.
Campus Mail requires check deposits be placed in a sealed Tamper Evident bag, then placed inside a sealed manila envelope addressed to: Business Operations - Building 55A, Room 105, 319 Abraham Flexner Way Louisville KY 40202. Please note: Campus Mail can deliver only checks in a sealed Tamper Evident bag, not currency/coin. Currency/coin must be hand delivered to our HSC office.
Example of completed tamper evident deposit bag: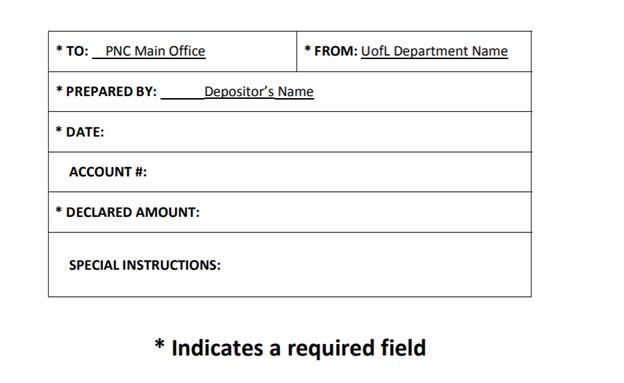 Armored Car Pickup
Deposits delivered to Business Operations by 3:00pm, Thursday afternoon will sent via armored car the next day (Friday). Deposits delivered to us after 3:00pm Thursday, and any time Friday, will be picked-up by armored car on the next regularly scheduled pickup, which is Friday of the following week. Pickup by armored car will not occur on any Friday that is scheduled as a University holiday, or University Closure. Deposits will be securely stored until the next regularly scheduled pickup. The Controller's Office and Treasury Management have approved the delay in deposits submitted to PNC Bank caused by the process change in using Armored Car.
Deposit Posting Grid
Departments should email their deposit Posting Grid to University Accounting . If Business Operations Finance provides reconciliation services to your department please also include Business Operations Service Account (businessops@louisville.edu) in the TO: field of your email. Note: if you enter our email address in the cc: we will not receive it. It must be entered in the TO: businessops@louisville.edu to ensure accurate receipt and timely processing.
Departmental Cash and Check Controls Policy
University guidelines pertaining to cash and check control policies can be found at Departmental Cash and Check Controls Policy.
Special Processing NOTE: The following pertains to deposits for gift, endowment or sponsored programs:
Gift/Endowment: If checks post to a Gift or Endowment Speedtype, it should be submitted to Advancement Services for processing, unless it is posting to an expense (starts with "5") account code as reimbursement for previously paid expense posting to the same account code. Department must email University Accounting and request them to review and approve deposit. Note: University Accounting will not accept a Posting Grid posting to a Gift or Endowment Speedtype, unless it is accompanied by email approving processing from Judy Singleton and Tiffany Bowles.
Sponsored Program: Any check posting to a Sponsored Program Speedtype must be submitted to Sponsored Program Financial Administration for processing.