1.

Log in to the OnBase form
Using Google Chrome Click the link found here.
Request Date is the form initiation date and is auto-populated.
An OnBase request number is automatically assigned.
Select what is needed in the drop-down list.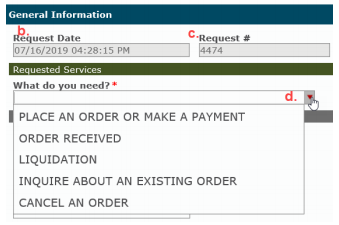 2.

Demographic Information
Type in your employee ID number then click the Tab key.
Name, university e-mail address and department will automatically populate.
Enter your phone number and mailing address.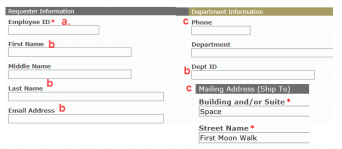 3.
Place or Order or Make a Payment
Description of Goods or Services – what is being procured and/or paid.
Speedtype - the speedtype where the goods or services will be charged.
Speedtype Category – field is autopopulated based on speedtype. If field does not populate then validate speedtype.
Are the goods or services being procured on a subcontract or a PSC? If so, select "Yes" from the drop-down.
Enter the PSC or subcontract number in the space provided.
Business Purpose – the reason for the purchase. This field will appear on the BA reconciliation financial statements.
Account Code – suggested account code for the goods or services. This field can be left blank. (optional)
Amount – dollar amount of purchase.
Percentage – Optional field if the charge will be split between multiple speedtypes or account codes
Click "Add" to add additional distribution lines to split charges.
Supporting Documents – attach any supporting documentation for the purchase. Multiple attachments can be uploaded.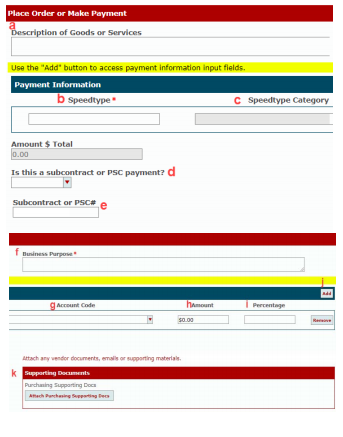 4.

Vendor Information
Vendor name.
Vendor contact information (optional).
Account Information (optional).
Contract ID or Agreement ID if the goods or services require a contract or department agreement.
BA project (optional).
Date required (optional).
Special Instructions (optional).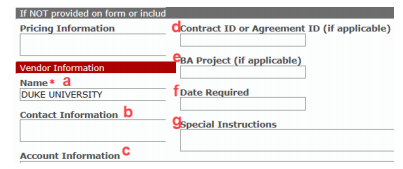 5.

Communications
E-mail notifications are sent directly from OnBase. They are sent when:

Order/Payment Request is received
Order/Payment Request is processed
Order/Payment Request is complete
If an Order/Payment Request is processed using a Purchase Order (PO) that has not been received emails will be sent out weekly reminding the customer to update Business Ops through the form when the order has been received

To view the form attached to the e-mails click the attachment one time in the email. Double clicking the attachment may result in only being able to see the first page.